27th Annual AIA Desert Classic Volleyball Tournament Volleyball (Sand) · Co-Ed Recreational
MonTueWedThuFriSatSun between 9:00am and 5:00pm
Team Fees

Regular

$175.00 per team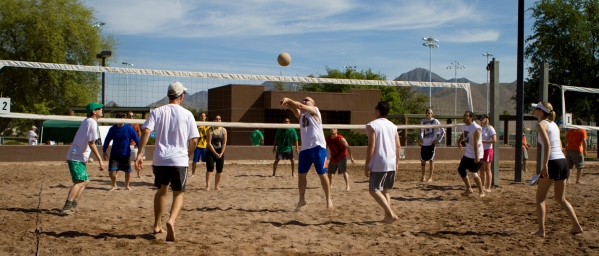 Tournament Information: -

2017 AIA Phoenix Metro Tournament Information
Check-in: 9:00 a.m.
Play begins at 9:30 a.m.
Completion: Approximately 5:00 p.m.

Click here for Location Info --> Scottsdale Ranch Park

Format: -

AIA Team Roster
Captains can now upload the team roster during the registration process. Please have your form ready with team member names, shirt sizes and signatures.
6 Coed - May play with 4, 5 or 6 players
(Minimum of 1 Female required)
(Maximum of 8 players allowed on roster)


Fee includes a minimum of 2 qualifier games, which will seed the teams for a double elimination tournament to follow.

All team members (maximum of 6) will receive tournament tee shirts. Additional shirts subject to availability.

Medals will be awarded to all players of the 1st and 2nd place teams, as well as commemorative plaques to the 1st and 2nd place team sponsors.

All games will be officiated with Tournament Director and support staff on site.
Rules: -

AIA Tournament Rules
USA Volleyball/Sand Sports Rules apply unless otherwise noted.

Additional Notes:
Players will be provided lunch which includes bottled water and/or soda.

Please remember to bring sun screen to the event. If you do forget, we will have sunscreen for the players at the check-in table.

Team Captains can now purchase Non-player food and drink tickets during the registration process

.
Food Tickets: $7.00 each


Drink Tickets: $0.50 each
Mail-in Registration:


AIA Desert Classic Mail-in Registration Form
Contact Information:
Juan Lozoya
juan@sandsportsvb.com
(480)-331-5826